Once again we came with useful Top 5 app list. In this article, I will share 5 amazing apps that will be useful app for Whatsapp user. By using these apps you will able to do Wow! things. Yes, Below apps will blow your mind. These apps are enough to entertain your friends. Let's see Amazing apps.
Before telling you amazing apps, I would like to tell you about WhatsApp. As you know Whatsapp is one of the popular messaging apps in google play store( or its alternative). This is freeware instant messaging app for smartphone. Whatsapp is made by Brian Action and Jan Koum in 2009 (Both was Yahoo worker). After its huge success Facbook acquire WhatsApp with 19$ Billion in 2014 and now whatsapp is the part of Facebook inc.
Amazing Apps for Whatsapp Users
Without losing time lets start downloading amazing apps to fool your friends 😉
#1. WhatsMe – Chat Without Saving Number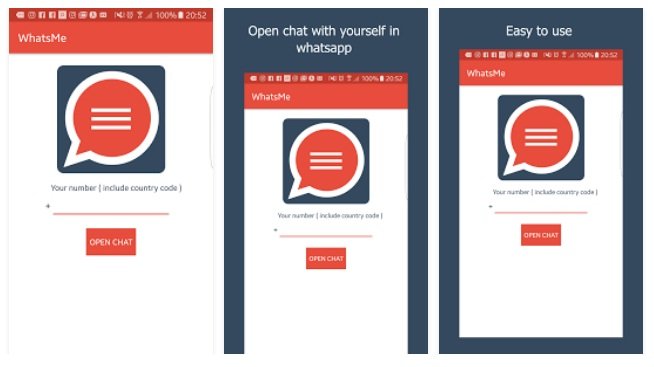 WhatsMe is one of the best app i ever used for whatsapp. Install this app and send whatsapp message without saving number. If you want to send message to the number and that number is not saved in your contact list & you don't want to lose your time in saving numbers then download WhatsMe app and send messages without saving contact number. As we know that we can't chat with anyone without having in contact list. Now don't worry use this app. Simply input number and hit on open chat.
Can you chat with your self in whatsapp ? Whatsapp don't allow to chat with self but Yes, you can chat with yourself using this app.
#2. Blank Message for WhatsApp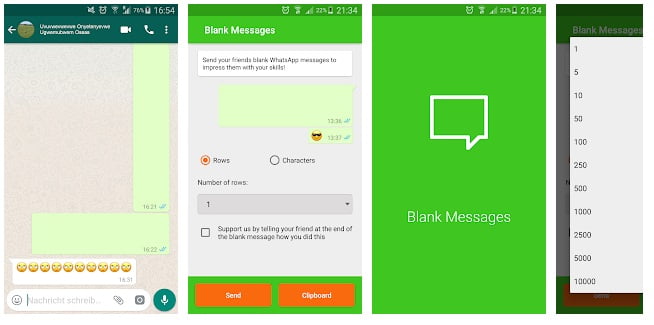 Meet with another interesting app, is Empty app. This app allow you to send blank message to your friends and surprise them. As we know whatsapp not given any facility to send blank message but by using this app you can send blank message to any whatsapp friends.
Also Read: Top 5 Best Mobile Screen Recorder Apps for Android
#4. Whats – Bubble Chat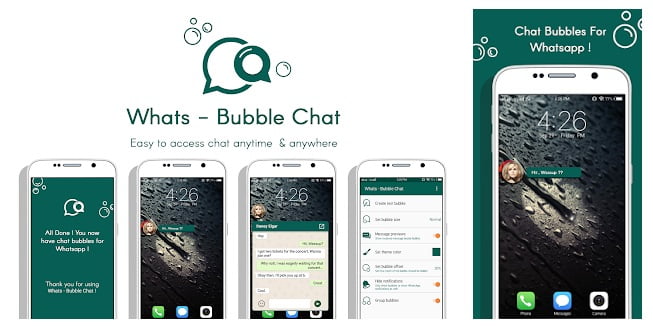 Lets make whatsapp bubbles as like facebook messanger. (See above image) Whatsbubbles app makes easy to chat with whatsapp friends. This bubble app included with Bubble grouping, preview & relpy to message. You can access whatsapp very smoothly.
Also Read: Top 5 Best Music Streaming Apps for Android
#5. Whats Web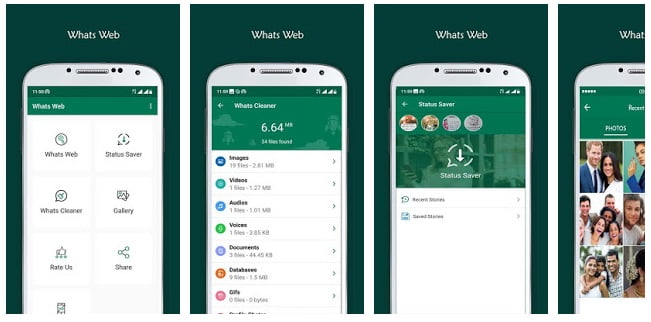 What web for WhatsWeb is very interesting application. By using this app  you can access whatsapp simply through QR code scanning. Use two Whatsapp account in your smartphone and tablets. Also you can able to send and receive messages, images, videos or documents by both WhatsApp.
Also Read: Top 5 Instagram Photos/Videos Downloader for Android Mobile
#5. Text Repeater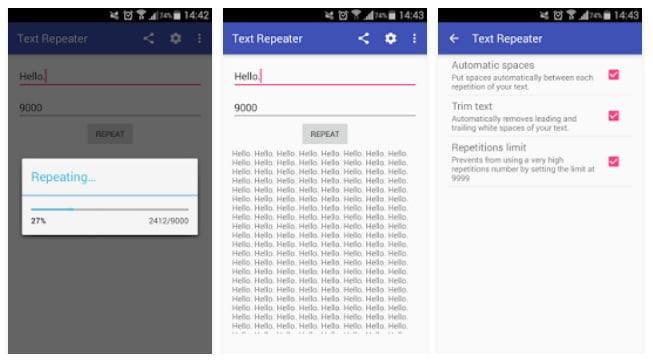 By the name of text Repeater you understand the use of this app. Yes! You can repeat words hundreds or thousands time in a second and send it to your friends.
Conclusion
So these are top 5 useful apps for you. I hope you liked these app. Now let us know if you are using any other app for your whatsapp then tell us in comment section. Finally, Its your time to Share app list with your Whatsapp Friends. Enjoy 🙂
Save